Quality characteristics of Circassian Walnut
For our production we only use walnut logs from Circassian mountains, harvested from eastern parts of Turkey. The valleys of Circassian mountains, where these special walnut trees (Juglans Regia= also called as English, Turkish and Persian Walnut) grow contain a lot of minerals, which give the walnut these beautiful colors. The contrast between the long hot summers and the absolutely freezing hard winters in these regions makes for the ideal growing conditions of Circassian Walnut. The furniture manufacturers in the world appreciate the exceptionally fine grain, strength, processing quality, distinctive color, contrast and structure of this wood. The characteristics of the Circassian walnut lies in its unusual color. This combined with the magnificent structure and density, it is getting the most exclusive furniture wood.
Wood Drying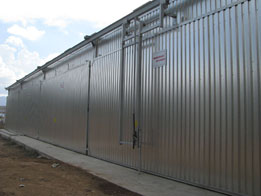 After quality selection the valuable material is first air-dried up to 12 months in front and finally technically kiln-dried up to 8% + / - 2% residual moisture content.



Hand Selection
A big attention is given to the cutting boards to maximize the color, figure and grain of our panels. One of the most important tasks of our trained employees is to sort out the different lamellas by color, texture and quality. This preliminary work guarantees a smooth surface of our solid wood panels. Therefore we only use high quality, healthy grown hardwood from sustainable forests.
Quality Categories
Each solid wood panel reflects the characteristics of its hardwood. As a natural product these tend to vary. However to ensure a high level of safety to our customers we generally produce three different Selections (Premium, Fancy and Rustic) with following traits:
A-Quality: In principle free of defects allowed with wood specific characteristics. Assorted colors, free of knots, naturally colorful, color differences allowed
B-Quality: Typical wood defects, healthy sapwood and heartwood, color differences allowed, small black knots up to 10 mm (6 pieces/ m2)
C-Quality (rustic Selection): typical wood color differences, as well as health sapwood allowed. Cracks and open patches unlimited allowed, color differences allowed